Movie Premieres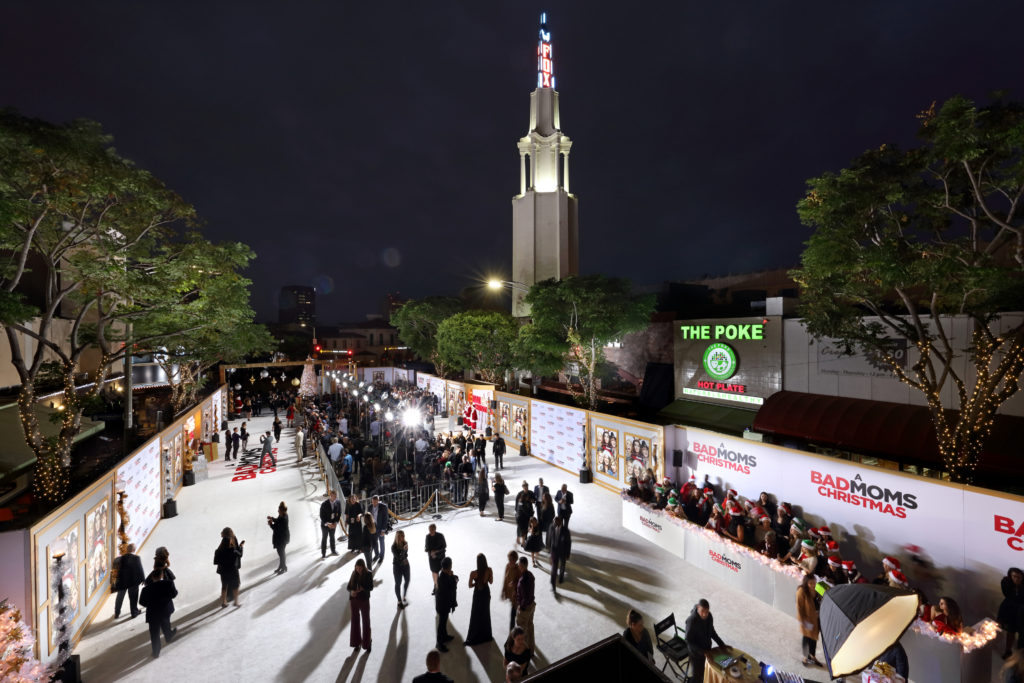 Westwood Village is located at the hub of one of the largest entertainment industries on the planet.
Multiple times a year at the Regency Theaters on Broxton Avenue, the red carpet is laid out, the cast and crew begin to arrive, and the fans line up outside to glimpse their favorite celebrities.
Please note that the WVIA and Regency Theatres cannot access movie premiere tickets. 
Upcoming and Past Movie Premieres:
"Wonka" Sunday, December 10, 2023
"Candy Cane Lane" Tuesday, November 28, 2023
"Leo" Sunday, November 19, 2023
"The Crown: Season 6" Sunday, November 12, 2023
"Afterparty: Season 2" Wednesday, June 28, 2023
"Joy Ride" Monday, June 26, 2023
"Never Have I Ever: Season 4" Thursday, June 1, 2023
"Shooting Stars" Wednesday, May 31, 2023
"Spider-Man: Across the Spider-Verse" Tuesday, May 30, 2023
"The Machine" Thursday, May 25, 2023
"The Mother" Wednesday, May 10, 2023
"Queen Charlotte" Wednesday, April 26, 2023
"Are You There, God? It's Me… Margaret" Saturday, April 15, 2023
"The Last Thing He Told Me" Apple TV+ Thursday, March 13, 2023
"Rennervations" Tuesday, March 11, 2023
"Murder Mystery: 2" Tuesday, March 28, 2023
"Air" Monday, March 27, 2023
"Dungeons & Dragons" Sunday, March 26, 2023
"Shazam! Fury of the Gods" Tuesday, March 14, 2023
"Ted Lasso: Season 3" Tuesday, March 7, 2023
"Party Down: Season 3" Wednesday, February 22, 2023
"Ant-Man and the Wasp: Quantumania" Monday, February 6, 2023
"Your Place or Mine" Thursday, February 2, 2023
"80 For Brandy" Tuesday, January 24, 2023 
"You People" Tuesday, January 17, 2023
"The Last of Us" Monday, January 9, 2023
"Emancipation" Wednesday, November 30, 2022
"Willow" Tuesday, November 29, 2022
"People We Hate at the Wedding" Wednesday, November 16, 2022
"Devotion" Tuesday, November 15, 2022
"My Policeman" Tuesday, November 1, 2022
"The School of Good and Evil" Tuesday, October 18, 2022
"Ticket to Paradise" Monday, October 17, 2022
"Never Have I Ever S3" Thursday, August 11, 2022
"Prey" Tuesday, August 2, 2022
"Bullet Train" Monday, August 1, 2022
"Luck" Saturday, July 30, 2022
"Thirteen Lives" Thursday, July 28, 2022
"Hustle" Wednesday, June 1, 2022
"They Call Me Magic" Thursday, April 14, 2022
"Project Circus" Thursday, March 24, 2022
"The Lost City" Monday, March 21, 2022

The WVIA and the Regency Theatres do not have access to premiere tickets.

If you want to host a movie premiere or screening at the Regency Village Fox Theatre or Bruin Theatre, please visit www.regencymovies.com.
In planning and executing these events, the WVIA expects that event proponents will make every reasonable effort to minimize the impact of the closure on the community; reduce the length of the closure by consolidating set-up time; optimize communication with all affected parties and follow all city requirements regarding fees, permit, notification, and public input.
For further information, please review the WVIA Premiere Conditions.