Broxton Nights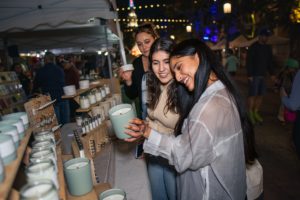 Broxton Nights: Holiday Market

Saturday, December 9, 2023
5:00 pm to 9:00 pm
Broxton Plaza

1036 Broxton Ave
Los Angeles, California 90024
Join us for the Holiday Market on Broxton Ave and see Westwood Village transform into a bustling hub of music, food, drinks, and holiday fun. Shop unique finds from artisan vendors and enjoy the magic in Westwood Village.
Celebrate the season with Santa & Mrs. Claus, Hanukkiah Menorah Lighting, bounce house, holiday shopping, more festive fun, and faux snow!
The first 100 guests receive $5 Market Bucks!
The Soundbox Truck will provide music and vibes. Discover an evening market by Farm Habit, showcasing artisan treasures, crafts, and mouthwatering treats. Let's create unforgettable memories and spread positivity throughout our community. Don't miss the magic – shop and mingle with us!
Businesses interested in learning more about the event, please email info@thewestwoodvillage.com or sign up here.